A Unique Imagery and Art Safari Experience
The Mana Sojourn is a journey to view and experience wildlife and nature up-close with the specific aim to capture images with one's individual creativity on paper, digitally or on film through direct interaction & observation. Focusing on blending photographic and art interest and an in-depth understanding of the wildlife we encounter, this safari takes place in possibly the most adventurous and experience rewarding of safari destinations in Africa, Mana Pools National Park.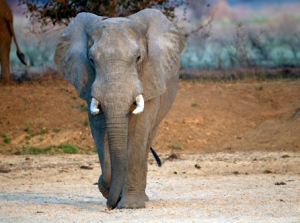 Offering a diverse range of safari activities and sceneries Mana Pools is home to large concentrations of relaxed wildlife including buffalo, elephant, wild dog, lion and a large variety and antelope. Characterised by giant Acacia trees with open undergrowth, seeing up to ten different species of mammal in one sweep is a common event on the Mana Pools floodplain in the dry months. Photographers will be working alongside and draw from the experience of a professional wildlife photographer and photo editor, and artists will be working alongside a professional wildlife artist and all guided by one of Mana Pools most renowned guides who is also a passionate photographer himself, Humphrey Gumpo. Humphrey will be based in Mana for most of the duration of the sojourn.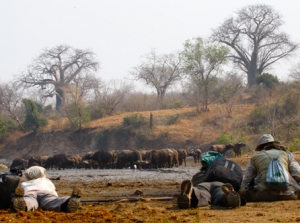 Without having to travel long distances to another park/area guests get to settle into a rhythm of African pace and follow up on any interesting interactions creating a real SOJOURN as moments are captured on foot, on a custom built game drive vehicle, on the Zambezi in a boat or just by sitting at a vantage location. The highlight of the unscripted adventure of canoeing on the Zambezi is also a possibility in this legendary area. The pace of the sojourn makes it possible to experience unusual events like following an elephant bull for a whole day observing his interactions with other wildlife around him. Mana Pools is known for its wildlife being relatively relaxed about people on foot but the elephant bulls of Mana are an exceptional phenomenon. They roam along the floodplains of the Zambezi with confidence that can only have been instilled by years of positive encounters with humans on foot. Occasionally standing up on their hind legs for the branches and nutritious pods of the acacia trees, these bulls behave in a manner rarely witnessed in the African wilderness.
One of the most important points of a photography and art safari is location and a Tented Camp on the banks of the Zambezi River, the inland Chitake Springs (the only inland waters for 40 kilometres in the dry months) and the pristine Chikwenya Concession all offer a unique Mana Pools experience allowing for a diverse photo sojourn. Photography, Art, Filming and particular iconic wildlife species such as elephants and wild dogs are all amongst the interests that can be pursued. Even through the times that there are no Sojourn guests in order to enhance the experience by staying in tune with all the different herd, pride and pack movements the crew will stay on in the park conducting drives, walks and diarise the sojourn.
Combine legendary, adventurous guiding and translation of the surroundings, unique flexibility to guest interests, the expert guidance of a wildlife photo editor or wildlife artist with a comfortable bed and good food in a camp with vantage location? That's the Mana Sojourn!