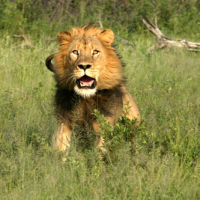 Hwange National Park is the largest wildlife reserve in Zimbabwe covering a vast 14,000 square kilometres and boasts the second largest diversity of wildlife in Africa. Known as the land of the giants for the large herds of elephants and buffalo found in this park, Hwange is an extension of the Kalahari Sand System from ancient sand storms. Teak and mopane forests are separated by open savannah vlei lines which are remnants of rivers of a bygone era that used to flow in the area.
Hwange National Park has both black and white rhino making it one of the top spots for a Big Five experience in Zimbabwe. Our tracking adventures in Hwange introduce you to the battle for survival in this often harsh environment. Sitting at a waterhole in Hwange National Park on a summer afternoon can be an overwhelming experience as large herds of herbivores congregate around the natural resource. Hwange is accessible by road and by air and is a fantastic all year round destination.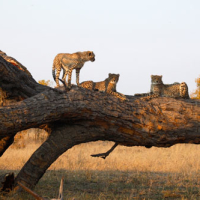 Activities in Hwange will include walking safaris that vary from a short walk as an activity from your camp to much longer treks of up to 3 nights, game drives and wildlife viewing from hides or even sleep outs.