(Specialist photographic, walking, canoeing, horse-riding, birding)
'Safari' is an old Swahili word from East Africa translating to a journey. When putting together safaris we try and incorporate as many different ways as possible of viewing, experiencing, enjoying and learning about your interactions with the wildlife that will be encountered. The accommodation used ranges from the rustic, explorer experience in a dome tent to the more luxurious safari camps that may even have a private sala. Concentrations of wildlife that are not bombarded by the same concentrations of vehicles or boats are where I try and focus journeys.
When coming on safari guests are often limited on the amount of time they can spend away from home. For this reason flying in light aircraft is the fastest and most convenient way to travel from area to area. Some remote areas do not have airstrip facilities and a helicopter flight is an option for a unique experience as opposed to a long drive through some relatively unproductive tracts of land. However in areas that I feel that road transfer will enhance the journey that is the mode of transport I will suggest. This allows guests to absorb the scenery, landscape and the wildlife seen along the way at the same time getting an in-depth understanding of the ecology, culture and history of their host country.
On game activities the mode of travel is varied to allow for different experiences. Fibreglass canoes, mokoro (traditional dugout canoe), pontoon boat, horseback, elephant back, safari 4×4`s and micro light are on the list of possibilities depending on where your journey leads you or where you lead your journey.
Private Guided Safaris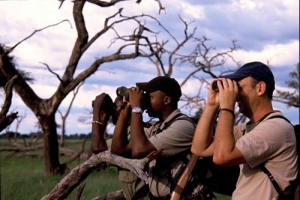 Guiding is one of the most important aspects of an African safari. Professional guides train intensively under qualified guides for about 4 years before they can be allowed to lead safaris. During this time education ranges from habits and habitats of wildlife, walking, canoeing, safety and proficiency in the use of firearms, first aid, the law governing the parks and reserves of Africa to the often overlooked areas like stargazing, photography and entimology. A rigorous day exam rounds up their apprenticeship and only then do they start gaining practical experience in the wild, without the comfort of a qualified tutor. This is the time when survival, sharing their knowledge and passion and management of situations both in dealing with wildlife and people becomes an instinct. A few years as a professional guide, working in a few camps in different parks/countries and a diverse knowledge and understating of varied habitats, guest interests, photography and/or other specialties then one can think about becoming a Private Guide.
Having a private professional guide on safari ensures continuity in interpretation of the wildlife and natural surroundings on your journey. Working together with the pilots, local guides, camp management and staff, your private guide will make sure that all your needs are met and special interests pursued as far as possible. Your private guide has the ability to enhance your experience and turns a good safari into a journey of a lifetime.
The relationship with your guide starts in the preparation for your safari, carries on during your adventures in the motherland to your time of departure from Africa and most of the times doesn't just end there. An all-round knowledgeable, passionate and experienced guide will definitely add great value to your travels in the "Dark Continent" and is often considered one of the most important ingredients in a safari of a lifetime.
Language Escort
English is the official and by far the most widely spoken language in most safari destinations in Southern and East Africa. Those that are not fluent in the English language may stand to lose out on the interpretation of their experience and their surroundings resulting in an average safari. For this we recommend traveling with a tour leader fluent in your language, familiar with your culture and well aware of the day to day activities and surroundings in order to keep you informed and ensure your enjoyment to turn a good safari into a fantastic safari.
Walking Safaris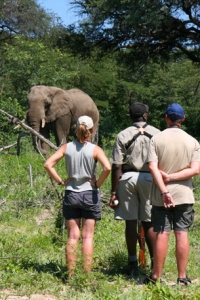 These vary from walking as an activity in camp, from camp to camp to a fully dedicated "Sussi and Chuma" type walking safari where guests are independent of any camp for one or a few nights.
Camp to Camp walks
Walking is an adventure in stark contrast to the traditional safari on a game drive vehicle aimed at looking at the smaller intricacies of the wild that may not be as apparent from a vehicle. The tracks of a porcupine, the droppings of different animals or the fascination carried by the termite world are amongst the different subjects of conversation. Depending on the area and the duration, walking from tented camp to tented camp that will have been set up before your arrival is popular amongst travelers as they arrive to a fully prepared semi luxurious camp.
Other guest's will also prefer to just walk in the morning or afternoon for a few hours from their semi/permanent camp. This experience usually creates a break in the monotony of any safari.
" Sussi and Chuma" expeditions.
The famous explorer David Livingstone was accompanied through most of his travels in Africa by two knowledgeable porters by the name of Sussi and Chuma. Being familiar with the terrain, the culture and the languages they kept him safe and guided him on his travels translating his experience. The similarity of this safari to Livingstone's travels is in that the party ventures into the unknown. Out of choice, guests decide to disappear into the face of the earth for a night or few and then resurface, often much wealthier in their knowledge and understanding of the dynamics of Mother Nature. In that time they adventure on foot into areas less traversed. In the company of an experienced guide and a porter (depending on the number in party) this is an exciting way to safari specially designed for travelers that like a bit of adventure. Carrying only the basics, (sleeping bag and bedrolls, food and camera equipment) in back packs guests venture off into the wilderness in a manner similar to the early explorers. Nights are spent in a light dome tent usually around a water hole or along a river. This journey is best done just after the rainy season (March to July) when the inland water holes still hold water and temperatures are forgiving.