Imagine the charm and experience of a secluded private bay on the Matusadonha shores of Lake Kariba embodying the scenic remains of ancient hardwood trees and surrounded by fringes of jesse bush and Mopane forest with hills and gorges characterized by Baobab and African Star Chestnut slopes and central to these varied scapes the most prominent mineral lick for more than 10 kilometres. Imagine the birdlife, mammals and aquatic life that an area like this would support, the unusual species of antelope on those steep slopes, the local wildlife Indaba at the mineral lick, the concentration of bream and tiger-fish in an area of exclusive small footprint use, the concentration of eagle and vulture nests in those stands of baobab trees and the adventure of tracking black rhino and walking up elephant bulls in those jesse and mopane habitats. Then add to this the stunning Lake Kariba sunsets shortly followed by a 360 degree view of the starry skies and the nightly serenade by grunting hippos, rumbling elephants, roaring lions and from time to time  raspy call from the elusive leopard. All while a small team is dedicated to ensuring your comfort, education and imprinting lifetime experiences on your mind and soul.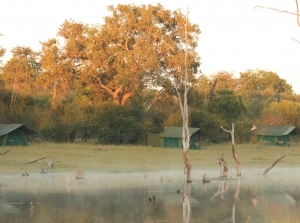 Imagine no more! Tailormade Safaris turns this imagination to reality with a new Matusadonha experience. Located on a private concession in the famous Chura Bay the small and intimate tented camp offers the ideal location from which to rediscover Matusadonha on foot, by flat-bottom pontoon boat, from the silence and close to nature appeal of a canoe and when need be from a game drive vehicle. Added to this diversity are the relaxations of viewing wildlife from a hide overlooking a famous mineral lick and the fun and excitement of tiger fishing for sport or bream fishing for a fresh light snack or meal. The rich diversity of this Matusadonha experience makes Chura suitable to the relaxation holiday seeker, the specialist photographer and the extreme adventurer. This experience is the perfect complimentary combination with a safari in Mana Pools, Hwange and Zambia's most prominent parks South Luangwa, Kafue and Lower Zambezi and is easily accessible by road and boat transfer from Lusaka and Harare. 
Choose to be part of the rediscovery of Matusadonha and Zimbabwe and let us create experiences that will you make your safari or holiday a journey of a lifetime!