Before we tell you about us let's look at the meaning of our name in the English dictionary.
We need say no more!
Before the formation of the organisation, we knew where our passion lay, in designing and delivering experiences that are perfectly fitted to a diversity guest interests. We then set out to work in the areas that our future safaris would venture in order to get an in-depth understanding of the wildlife dynamics that these areas offer, the camps and lodges in the areas and what they offer, how best to access these remote locations and most importantly the prime time and what the areas offer at the different times of the year. This saw us working in the major national parks in Zimbabwe, Zambia and in the Okavango and Linyanti areas of Botswana and visiting Namibia on numerous occasions. In that time we sat under a fig tree with a whole pride of lions in the Busanga Plains, pioneered canoeing safaris in Botswana, observed real-time interactions of epic proportions at Chitake Springs, quad biked the Makgadikgadi Pans, observed incredible concentrations of wildlife on an October day in South Luangwa and photographed desert adapted elephants in the Skeleton Coast.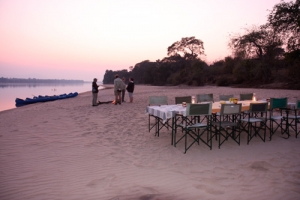 Then it was time to get to work. To design special experiences in areas of unspoilt wilderness which we know intimately. The national parks of Zimbabwe provided the perfect blend of sceneries, wildlife concentrations and less frequented safari destinations. Activities are excitingly diverse with canoeing, walking, game drives, boating, platform sleep outs and trekking adventures to mention but a few. This as you may probably imagine took a lot longer than planned as this journey is an adventure on its own. Since the inception of Tailormade Safaris in 2008 we have shared unimaginable experiences with guests from Europe, Australia, the Americas and the Southern African region. Most of our guests have over the last few years fallen in love with the way we deliver the African experience and become repeat guests who continue to return for these unscripted adventures. Today we can happily say, over the last few years we have gained invaluable experience in doing what we set out to do, create and deliver once in a lifetime experiences. We have built a team of professionals that are good at what they do and have come to understand where we want to be and the experiences that we would like to offer our safari guests. We have judged our success not by the number of guests we have hosted but by how life changing their African experience was and by their interest to come back to us to tailor other journeys in our region of expertise.
Contact us to design a journey of a lifetime for you, perfectly fitted to certain conditions, your preferences and purpose and we will make it to order!
The Team