The purpose of life is to live it, to taste the experience to the utmost, to reach out eagerly and without fear for newer and richer experience. Eleanor Roosevelt.
What a successful season for Tailormade Safaris being fully booked for the year. Our Team was on their toes 24/7 making sure every safari paint a memory to each and every guest who will be in camp at that specific time and period.
Tailormade Safaris is greatly honored to have hosted some of the greatest people who are experts in their fields, Brian Keating an amazing Tour leader well known around the world for his expertise in tour guiding and
Greg Du Toit
an award winner BBC World News African Wildlife Photographer of the year just to mention a few. Humphrey Gumpo also guided a group of 40+ (Nicodeme) which came in through Inspiration Zimbabwe and 18+ group
(keating)
which came in through
Civilized Adventures
. This is an Amazing achievement for us because it shows that we have move from where we were a few years back in terms of growth. We can't wait to do this again. With great hospitality tactics our team has and the experience that our guides have it made the job a lot easier to handle. We say thank you to each and every one of you who came through to Tailormade Safaris and shared their time and experience the bush was giving, being in the company of a professional guide (Humphrey Gumpo) one can set a foot for hours and get very close to wildlife in our national parks. That's a bonus. Mana pools flood plains for example as one of our national parks has got a tremendous way of revealing its magic.
It is always good to see the reaction of discovery and hear the snorts barks of the antelope and baboons as predators walk the earth in pursuit of their prey. At full speed this agile predator set its focus on a young kudu and caught it with a roll and held it tight. The cheetah did not kill the kudu though suggesting that it may have had a pup in the area and was planning on using this as a training opportunity. This was confirmed at the arrival of another cheetah. So young this cat was, it still has the grey mane that they have in the younger age. The stunning cheetah rested while the baby jumped up and down around the carcass not knowing exactly where to start. After watching such a hunt either you will have tears dropping of your eyes or you will be smiling or even doing both. You will be emotionally moved that's how Mana pools roll, but us as Tailormade we will be by your side making sure that those with tears in their eyes are smiling again (no mixed emotions please).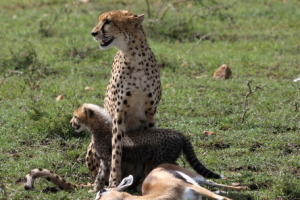 We will be there every step of the way to create a memory that will last a lifetime. Tailormade we good at that!! For the guests who shared their experience I'd like to ask you to send us a journal and a few photos of your safaris at (info@tailormade-safaris.com) so we share them with those who are willing to come for a safari next year through our website on our GUEST DIARIES section and even on our social media pages listed below. Please don't hesitate to write on these pages, we kindly ask you for your input because our growth is determined by you. Again I say thank you for coming we really appreciate you, hoping to see you again next year. It is you who make these journeys of a lifetime Tailomade… Like our Facebook page
tailormade.saf
and follow us on Twitter
Tailormade_Saf
Thanks Again Merry Christmas and a Happy New Year…